It's always a sad time when we lose a valuable member of staff but in May we lost two!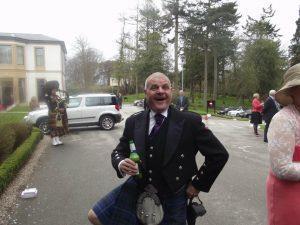 Jodi Davidson, for almost three years, was our Business Consultant in Yorkshire and due to Jodi's hard work and talent, we've grown the region to a £1m turnover and now employ well over 100 staff. Jodi and her family, husband Marc and two children Skye and Hunter have emigrated to Ottawa in Canada where Marc has been offered a job of a lifetime. We thank Jodi and wish the family the very best of luck.
Raymond (Rogey) Lee was one of our first employees when we started to clean Tynedale Retail Park in Hexham back in the late 1990's. Eighteen years later and Rogey has been an absolute star for us supervising teams at both Tynedale Park then Robbs of Hexham and many other clients in the Hexham area. In the past year or so, Rogey's health has been suffering and on the 31st May, Rogey called it a day. He's has been brilliant for us and we think of him more as family than anything else. Thank you so much Rogey, look after yourself and we look forward to catching up in Hexham for a drink or two very soon.