In August 2013, Edwards Cleaning scooped Theo Paphitis' coveted Small Business Sunday award, and things have been on the up ever since.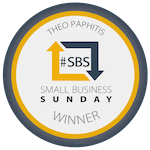 Paul worked for an International franchising company in the commercial cleaning sector, selling cleaning to new franchisees. After four years he thought, "I can do better than this" – so he sold his home and put the equity in to the new company. This was in 1998, and Paul went in to business with a fellow director from the same franchise company. In 2003 the the business split 50/50 and Paul's wife Hazel came in to the newly branded business. They put the family name on it to show their determination to quality service and demonstrate a caring, 'family' ethos to business.
Since 2003 Edwards Cleaning has grown to employ over 500 staff with a turnover of £3,500,000. With Edwards Commercial Cleaning (North) Ltd now operating in Yorkshire, the future looks bright.
The company is ISO9001 (quality) and ISO14001 (environmental) accredited showing our commitment to quality and looking after the environment. On the health and safety side of the business, we're Safecontractor assessed annually.