Each member of our highly experienced team is dedicated to providing you with only the best service we can possibly provide. It shows in everything we do, from how we assess your needs, to how we with you on an ongoing basis, to how we respond to the changing needs of your business.
Paul Edwards
Managing Director
Starting the original business in 1998, Paul split the company in two in 2003 when the ex-Director took the other half and went his own way. The company became Edwards Commercial Cleaning Services Limited and Hazel, Paul's wife, joined the new business. Since then the business has grown year on year, creating many jobs and opportunities and gaining an excellent reputation for 'exceeding expectations'. In September 2013 on it's 10th anniversary, the company re-branded and changed colours, logo's and now has a lovely new website! On the 10th March 2014 Edwards Commercial Cleaning (North) Limited was started covering the Yorkshire region. Plans for growth and creating even more jobs and opportunities are huge. A really exciting time for the two businesses. Paul's passion is to empower and develop the staff to reach their potential. "If we give the people the opportunity, mentor and support them, then they flourish. Seeing progression up through the business of an individual is amazing and this ensures that our customers get the service and personal attention they deserve."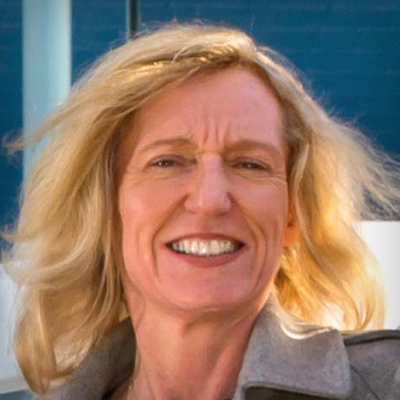 Hazel Edwards
Company Secretary
Hazel joined the newly formed company in 2003 and runs the administration side of the business. With 15 years of local government administration experience, Hazel does everything from payroll and invoicing to cash collection, banking and all the personnel contracts for the workforce. "I've been in administration since I was 17 and started at the the DHSS in Longbenton. It gave me an excellent grounding in the importance of systems and ways of working efficiently. Now with our own family business, looking after the clients and our staff is so important. Getting the invoices right and ensuring our staff are paid correctly, on time is vital. Happy staff look after the customers and that's what it's all about."
Tracy Walker
General Manager
We are absolutely delighted to be able to introduce Tracy Walker as our new General Manager.
Tracy worked in a similar position for another local commercial cleaning company for the past 12 years and has a wealth of experience and loves to 'Lead from the Front' as demonstrated when she went out to clean on Christmas Day to save her team from having to work!
Having managed major accounts and teams of operations managers and area supervisors, Tracy was the perfect choice when recruiting to replace Andrius Dagys who has left us for a new adventure in the human resources world, having worked for us for over 17 years himself.
Building relationships with key stakeholders, managing performance and supporting her teams has been a few of Tracy's strengths over her time in the industry. Hugely respected in the business and with a reputation for high standards and fairness, we know Tracy will fit straight in.
In her spare time, Tracy is a volunteer for The Samaritans as she loves to help and support others in any way possible.
Jonny Edwards
Area Manager
Jonny has been working for many years now with the administration side of the business and has an excellent understanding of accounts and payroll and now, following on from gaining his 2:1 Degree in Business, is fast learning our business. Working with Tracy, Paula, Michael, Mark and Steve and the rest of the operations team, Jonny is working closely with the most important people, our cleaning teams. Jonny has completed his IOSH qualification in managing safely. When not at work, Jonny loves his football and (when he gets fit following ACL surgery) he may get back to coaching junior football somewhere as he has his Class 1 coaching badge. Jonny has been at the forefront of the fight against Covid19 and has been heavily involved in deep cleans.
Nikki Masterman
HR Director
We're delighted to welcome Nikki Masterman as HR Director. Nikki joins at a really exciting time as we look to grow our teams rapidly and wanted a strategy in place, not only covering the day to day HR but looking at staff engagement, training, wellness, onboarding and career pathways. Nikki is the MD of an award winning company called Inspired HR and has worked for huge corporates as well as the smaller family run operations. Meeting with Nikki are fun as she's a 'feeder' and comes equipped with bags full of goodies! Another dog owning member of the team too and we're so looking forward to working together.
Stephanie Nicholson
Finance Manager
It's taken a while but we've now got Steph to look at the financial side of the business which is a great help for Hazel. Collecting in money is such an important part of running a company and Steph has a load of experience doing exactly that. We've already seen excellent results and it's lovely having Steph working with us. Out of work her two little'uns keep Steph really busy and she enjoys walks on the beach. The odd glass of wine goes down nicely too!
Tracey Langstaff
Business Development Manager (North East)
Tracey joined us with over 20 years of experience in the financial services industry, bringing with her a wealth of people and communication skills. Tracey is spearheading our growth plans in the North East and keeps the Operations team very busy with the amount of new business she keeps on bringing in. When not at work Tracey spends as much time as possible with her children and has been known to frequent theme parks! A more relaxing hobby for Tracey is gardening.
Steve Woodward
Operations Manager
Steve joins us from managing the cleaning in one of the regions largest hospitals and we're delighted to have him on board. With a ton of experience in several sectors, Steve has come with ideas which will only help us get better at what we do. He'll be looking after clients and the cleaning teams, mainly in the County Durham, Wearside and Teesside area and with the expected growth in those areas, Steve's going to be busy.
Michael Smith
Operations Manager
With a host of cleaning industry experience working with huge supermarket chains, Michael had initially joined as an Area Supervisor but has now been quickly promoted to Operations Manager as his impact has been excellent. Michael has energy and enthusiasm to go with his fantastic people skills and has had brilliant feedback from clients and staff. Not the shy type, Michael has already been meeting staff and clients across the business and has even started auditing some to get used to our bespoke quality system. Getting weekends off after years of working them is taking some getting used to but Michael and his family are just loving it.
Simona Weeden
Area Supervisor
Simona joined us in 2022 and very quickly proved to be an excellent cleaner, trainer and a very capable manager of people so was promoted into a Area Supervisor role. Customers often ask if they can "Keep" Simona on site as she's so good when covering, which is quite a compliment to her attention to detail and hard work. We're now giving Simona auditing responsibilities and hope one day soon that she will step up into an Operations Management role.
Sarah Taylor
Office Manager
Sarah is now our full time Office Manager and we're absolutely delighted to have such a bubbly personality in our new John Buddle Work Village office. Sarah had originally been with us in a part time role but we thought it was time Sarah 'officially' ran the place! Sarah will be working mainly from the office but with innovations in IT, Sarah can work from virtually any place she's is. When not at work Sarah spends lots of time with Dylan (her big lad, who seems to be getting taller every time we see him), Zumba and a whole host of stuff to keep her busy. Great to have you around a whole lot more.
Paula Walker
Operations Manager
Paula came to us from years working in the care industry. Looking after people is just perfect for what Paula does with us! Taking care of her staff and clients is so important and since coming on board in 2022, Paula has done that perfectly. Next year will be a big one for Paula as she's getting married.
Bella
Office Hound
Bella is a Newfoundland and loves jam on toast, biscuits, sausages, curry and anything else that happens to drop on the floor (accidentally of course).
We're always looking for local, experienced cleaning staff to work with us. If you're interested in joining us, please get in touch. If you have a car and are able to work very flexible hours, please get in touch. We pay mileage allowances too.